Ridged Glass Straws
Regular price

Sale price

$5.00
Introducing the ultimate solution to elevate your iced coffee drinking experience at home - the Cheerware ridged glass straw! Say goodbye to disposable plastic and hello to a sophisticated and eco-friendly option. Our ridged glass straws are not only reusable, but also dishwasher safe, making them a convenient and practical choice.
Whether you prefer your coffee hot or cold, our heat-resistant glass straws are safe to use with any drink. And with a range of vibrant colors to choose from, you can add a pop of fun to your morning routine. The stylish ridged design not only adds a touch of elegance to your cup, but also makes for a more comfortable sipping experience.
At a time when sustainability and reducing waste is at the forefront of our minds, our ridged glass straws offer a simple solution. Say goodbye to wasteful plastic and switch to a more environmentally responsible option with our ridged glass straw. Not only are you making a positive impact on the environment, but you're also investing in a high-quality product that is built to last!
Whether you're looking to upgrade your morning coffee routine, or simply want a fun and sophisticated way to enjoy your daily water, our ridged glass straws are the perfect choice. So why wait? Order one (or a set) today and enjoy a sustainable and stylish way to drink coffee at home :)
Ridged Glass Straw Specs:
available in 16 colors and two sizes

Please make sure to pick the right size for your glass for best fit 🙂

dishwasher safe
compatible with our bamboo lid
Our ridged glass straws are available in a variety of clear colors:
Gold
Honey
Yellow
Clear
Pink
Lavender
Light Blue
Teal
Green
Gray
and milk/opaque colors:
Orange sherbet
Lemon sherbet
Periwinkle
Mint
Sage
If you're having trouble deciding, check out our style guide to help pick the perfect color and size 🙂
Share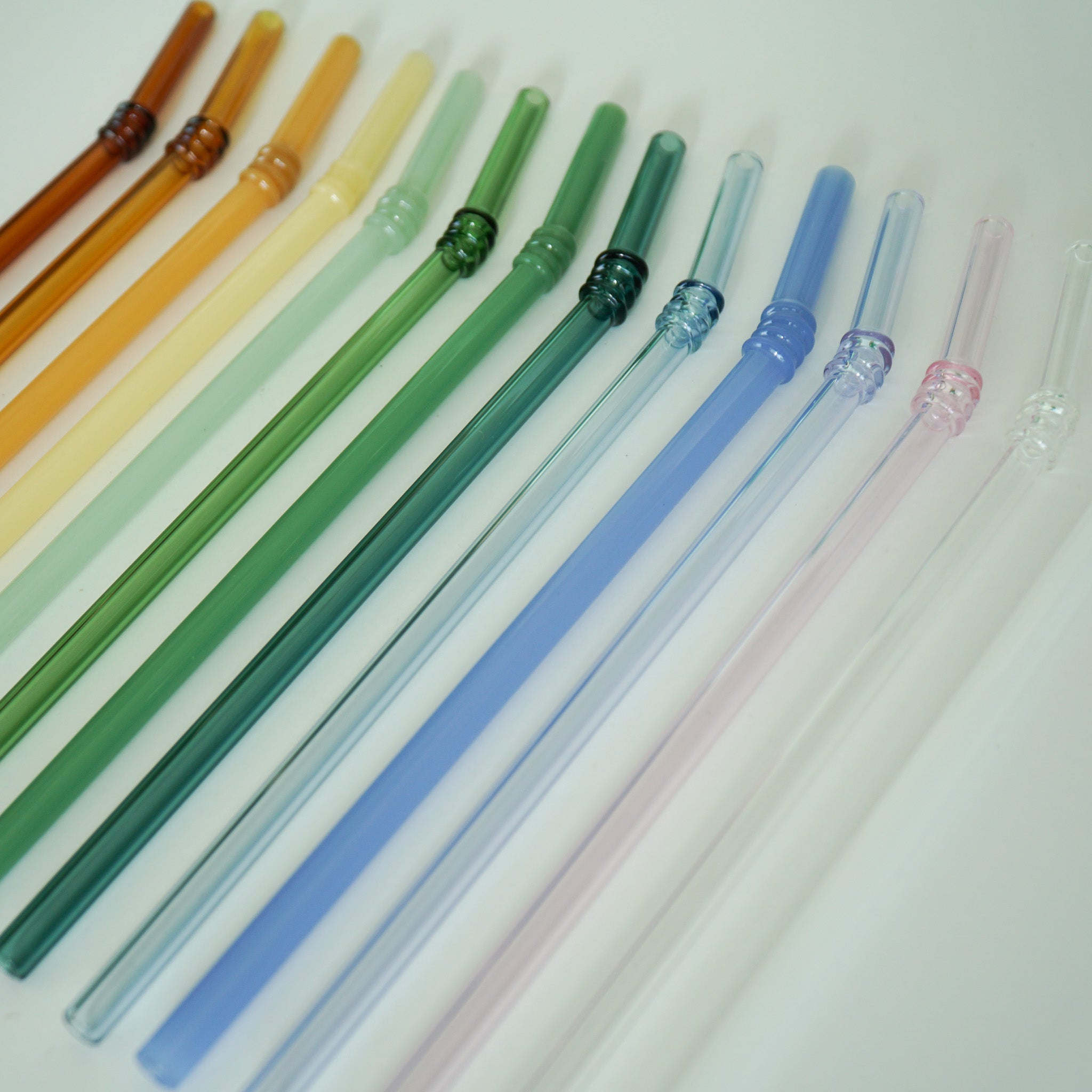 FAQs
How do I take care of my glassware?

White designs are perfectly dishwasher safe in the top rack
Colored and metallic designs should be hand washed to prevent fading/chipping
What straw fits best?

We have so many straws to choose from, it can be a tough choice!

If you're looking for inspiration, check out our style guides here

If you're ready to purchase, just make sure you get a 16oz size straw for a 16oz glass or a 20oz sized straw for a 20oz glass and you'll be set!
Cute straw!
I loved this straw but it broke before I could use it :( I'm sure it was damaged during shipping or something, it is good quality glass. I would still recommend this straw because what happened to mine isn't common!
Really nice!
The glass straw is quite nice. It's really smooth and cleans well. Love the color too.
Such a fun and pretty way to sip my tea and coffee. Great quality!
The cutest straws, I want to collect all the colors!