Kitsch Witch Glass
Regular price

Sale price

$18.00
Is it happy hour or witching hour with your kitsch witch glass in hand? In a witches cottage, a cauldron is bubbling, dried spices and citrus hanging, and cats dart to and fro. There are all matter of preserves, jellies, and potions in her cupboards as her needlework lays beside the hearth. As homey as it is, you can't help but notice the embroidery scissors she keeps close and a bluebird that keeps stopping by..
This glass is perfect for your favorite cold brew coffee or a sparkling water on ice. Enjoy your favorite cool drinks while the heat dies down and the leaves start to turn.
If you're a fan of vintage halloween style or over the garden wall, this addition to the spooky collection is for you! Here's all you need to know about your new glass:
Kitsch Witch Glass Details:
Design highlights: vintage-style cats, cauldron, hanging spices and citrus, potions, stylish boots and broomstick for all your witchy endeavors!
White designs are dishwasher safe in the top rack
Color designs should be hand washed to avoid ink chipping or fading
16oz and 20oz capacity options available
Can-shaped glass
Only for cool drinks (iced coffee, smoothies, milkshakes, sodas, etc.)
Straw and lid not included!
Want to turn your drinking glass into a closet tumbler? Visit our accessories page to add an environmentally-friendly bamboo lid and glass straw to your order!
Looking to complete the set? Find the other new spooky designs here:
Share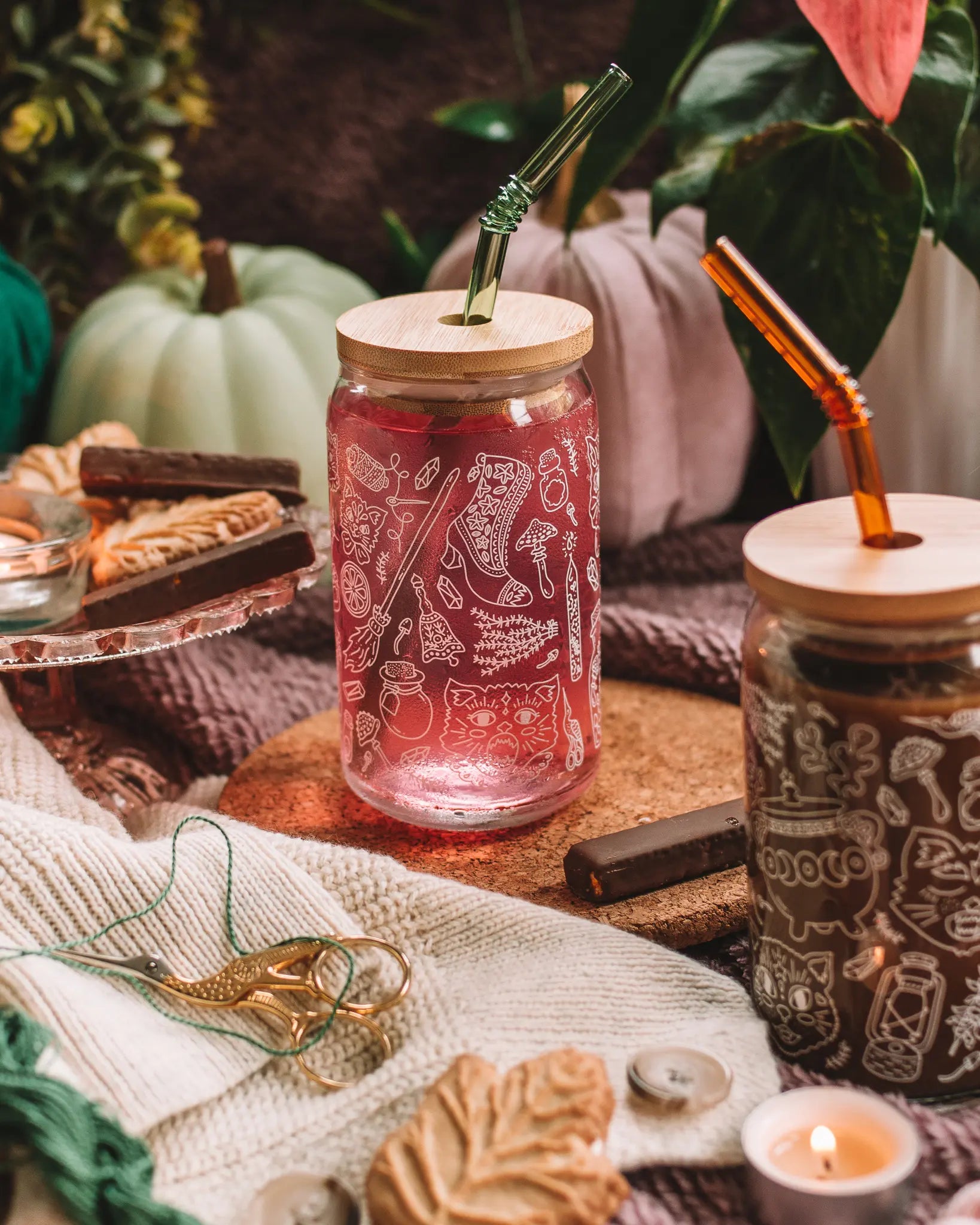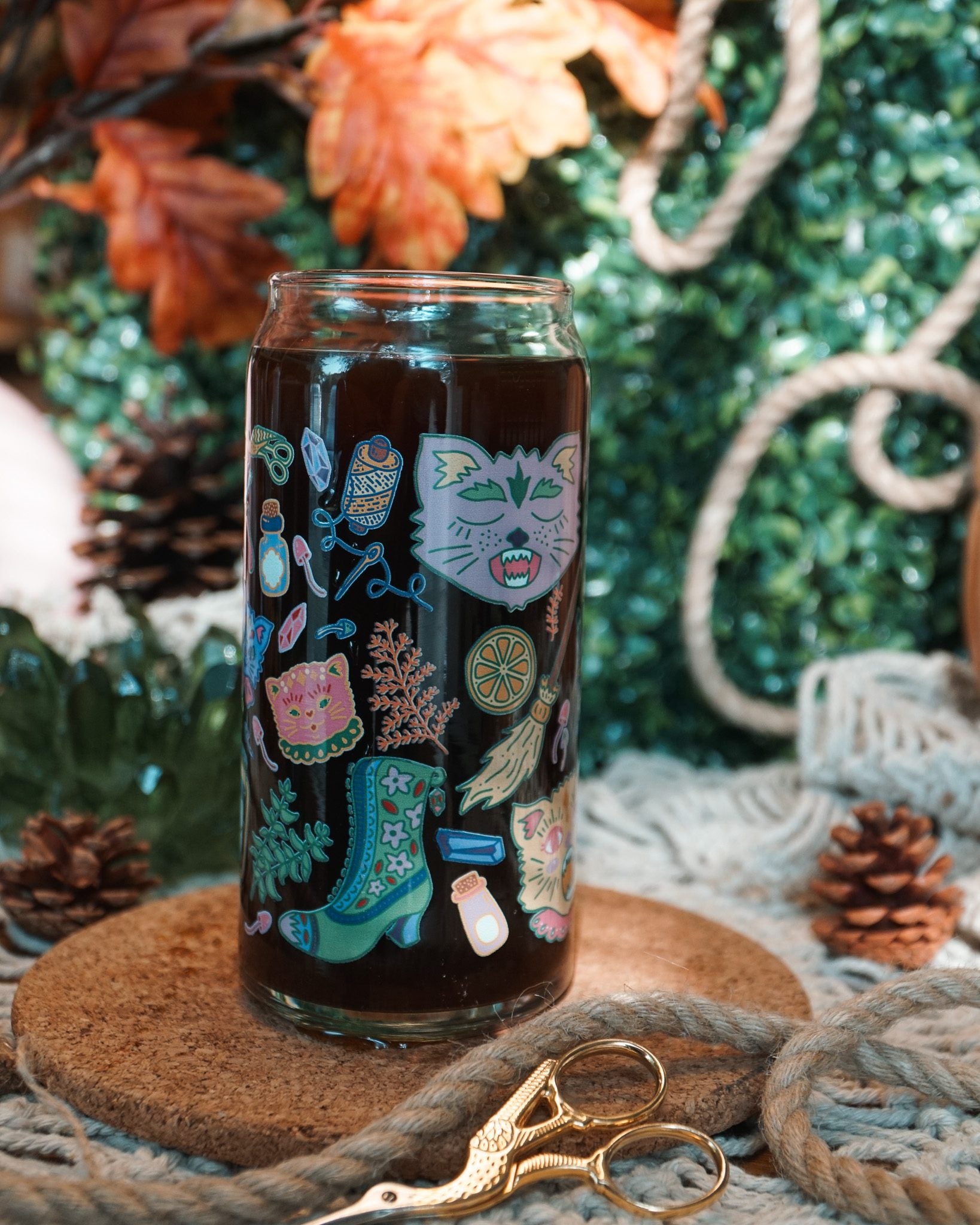 FAQs
How do I take care of my glassware?

White designs are perfectly dishwasher safe in the top rack
Colored and metallic designs should be hand washed to prevent fading/chipping
What straw fits best?

We have so many straws to choose from, it can be a tough choice!

If you're looking for inspiration, check out our style guides here

If you're ready to purchase, just make sure you get a 16oz size straw for a 16oz glass or a 20oz sized straw for a 20oz glass and you'll be set!
Kitsch Witch Glass with Bamboo Lid and Glass Straw
I just received my glass, with a bamboo lid and bent glass straw(in honey), last Friday and I AM IN LOVE!
I got the colored version and the print is bright and has no flaws. It's adorable!!
Also, I want to point out their stellar customer service. If you're like me and are indecisive I kept switching between and 16oz and 20 oz glasses. I finally decided on the 16oz and placed the order. And guess what...I forgot to change the straw size as well. I reached out and asked if they could amend my order so I would get the correct-sized straw. They kindly responded and switched my straw before it went out.
The packaging was also very cute and the packaging of peanuts being biodegradable was amazing.
Will be purchasing again!
Kitsch Witch Glass
Kitsch WItch Glass with Bamboo Lid and Honey Glass Straw