Harvest Folk Glass
Regular price

Sale price

$18.00
Don your fruits and vegetables, it's time to celebrate the harvest! Candy apples, pumpkin pie, and all manner of treats adorn this can shaped glass. But it's halloween, so where's the trick? Maybe these harvest folk aren't all they appear to be..
Apple cider donuts, freshly popped corn, and high quality molasses, what a wonderful harvest! Grab your favorite treat, find a partner, and join in on the celebration today! If not, you'll join them some day..
This glass is perfect for an iced pumpkin spice latte or a crisp glass of apple juice. Enjoy your favorite cool drinks while the heat dies down and the leaves start to turn.
If you're a fan of vintage halloween style or over the garden wall, this addition to the spooky collection is for you! Here's all you need to know about your new glass:
Harvest Folk Glass Details:
White designs are dishwasher safe in the top rack
Color designs should be hand washed to avoid ink chipping or fading
16oz and 20oz capacity options available
Can-shaped glass
Only for cool drinks (iced coffee, smoothies, milkshakes, sodas, etc.)
Straw and lid not included!
Want to turn your drinking glass into a classy tumbler? Visit our accessories page to add an environmentally-friendly bamboo lid and glass straw to your order!
Looking to complete the set? Find the other spooky designs here:
Share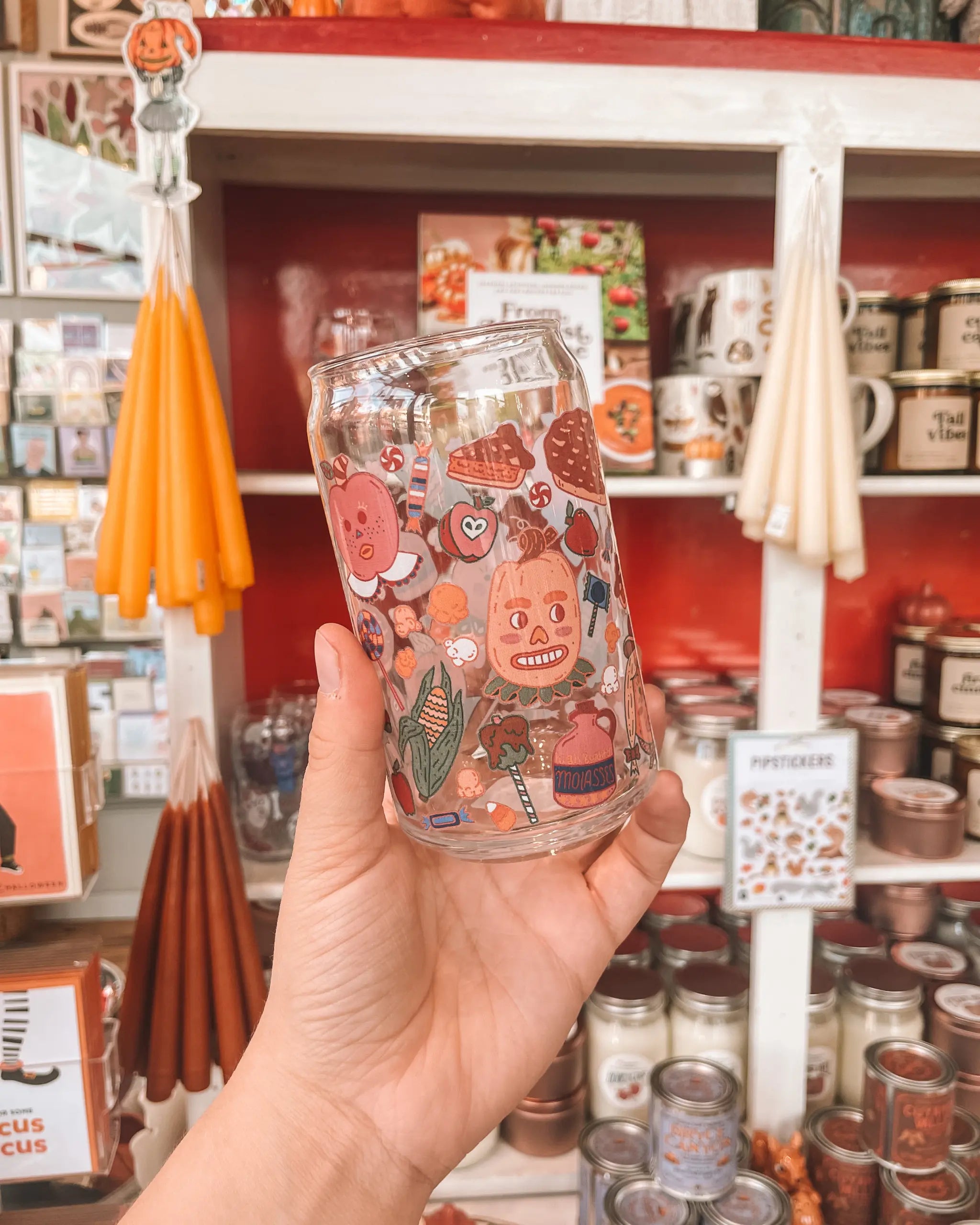 FAQs
How do I take care of my glassware?

White designs are perfectly dishwasher safe in the top rack
Colored and metallic designs should be hand washed to prevent fading/chipping
What straw fits best?

We have so many straws to choose from, it can be a tough choice!

If you're looking for inspiration, check out our style guides here

If you're ready to purchase, just make sure you get a 16oz size straw for a 16oz glass or a 20oz sized straw for a 20oz glass and you'll be set!
Adorable
These glasses are so adorable! The print is really cute and clear, and the glasses are thick on the bottom making them sturdy. I use these all the time for my iced coffee. Additionally, the straws and really cute and match the glasses well. I want to own every cup that Cheerware makes.